WELCOME TO MILLHURST DESIGN CENTER
The goal at Millhurst Design Center is to provide creative and functional personalized design services for kitchens, baths, and living spaces perfect for every lifestyle and price range. Catering to homeowners, contractors, interior designers, and architects, we specialize in full project coordination from conception to completion. We are also happy to assist with partial projects such as kitchen backsplashes, bath vanities, cabinet hardware refresh, custom bars, laundry rooms, and much more!
OUR SHOWROOM
If you are in the process of choosing cabinets, hardware, and materials for an upgrade to your kitchen or bath, Millhurst Design Center is the first place you should visit. We carry only the best quality products from some of the top names in the industry, and you can see them firsthand in our showroom. Our state-of-the-art, 5,000-square-foot retail showroom features a variety of kitchen and bath vignettes, cabinetry sample and conference room, cabinetry fixtures, plus an expansive tile display room. Our designers are here to give you expert advice and offer insight to help you create the kitchen and bath you've always wanted. We recognize that you can buy your products anywhere you choose, and outstanding customer service, in-home measurements, and top-quality products will lead you to choose Millhurst Design Center. Visit our kitchen, bath, and tile experts at Millhurst Design Center today! MEET OUR DESIGN TEAM >
OUR SERVICES AND PRODUCTS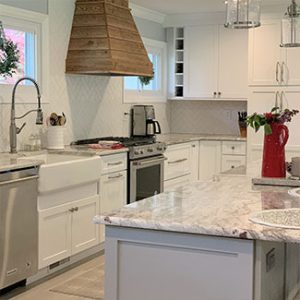 KITCHEN DESIGN
Whether you're planning a new kitchen or remodeling an older one, our kitchen design specialist will show you dozens of options from today's finest kitchen manufacturers. We will guide you to the best solutions to help create a kitchen you'll love coming home to.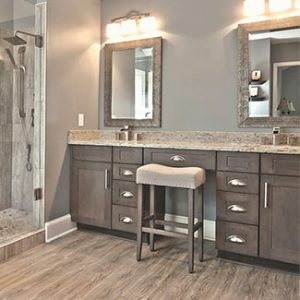 VANITIES
We display bathroom vanities from the most trusted name brands in the industry to help make your choice easy.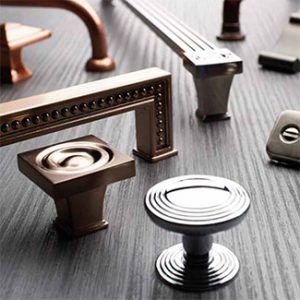 CABINET HARDWARE
Cabinet hardware is often overlooked and can be a last-minute decision. Don't make that mistake! Often called the "jewelry of the home," it's a great way to show off your personality or refresh your cabinets. At Millhurst Design Center, we have just the right style for you with a wide selection of styles, finishes, textures, and design combinations to choose from.
Choosing the right cabinets can enhance your kitchen or bath's functionality and style. Whether you need a cabinet system that offers the ultimate in storage and organization, desire cabinets that reflect your unique style, or require a combination of both, we can help with our top-quality cabinetry lines. We'll guide you through the various door styles, cabinet finishes, and hardware choices from the top name brands. Each cabinet line offers superior durability, reliability, and lasting value. You'll discover designer-inspired colors and all the subtle nuances needed to make a beautiful statement.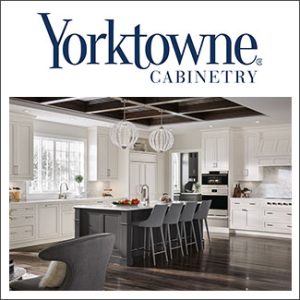 YORKTOWNE CABINETRY
Reinvigorate the timeless style of your home with the modern innovation in storage and functionality you need. Yorktowne's cabinetry blends style with smart design.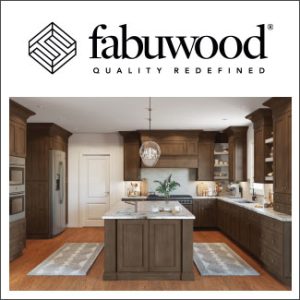 FABUWOOD
Your kitchen cabinets should help develop a sanctuary that perfectly balances functionality and ambiance. With a range of styles, materials, and finishes available, Fabuwood offers a multitude of options for all your kitchen projects.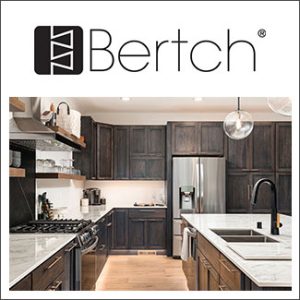 BERTCH
Perfecting the art of cabinet making since 1977, Bertch remains committed to quality, customer service, and environmentally responsible manufacturing. Bertch has been reviving the cherished art of traditional cabinetmaking utilizing only the finest wood, furniture joints, and exceptional finishes to create distinct products for the home.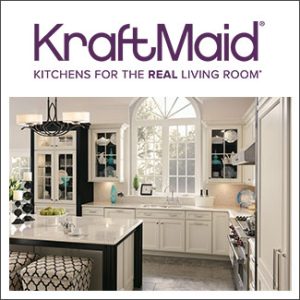 KRAFTMAID
KraftMaid kitchen and bath cabinets are durable, high-quality cabinets with unmatched features and premium construction. KraftMaid cabinets are built to stand up to whatever life throws at it.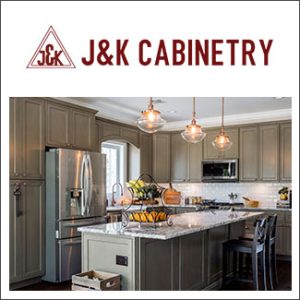 J&K CABINETRY
J&K Cabinetry offers distinctive and stylish cabinetry uniquely designed for homeowners who dream of high-quality and elegant cabinetry.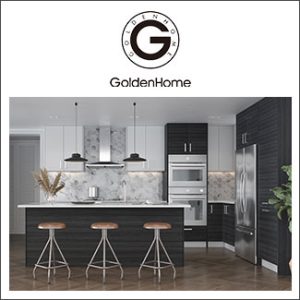 GOLDENHOME
Since 1999, GoldenHome has been producing cabinets for the global markets. Whether your vision is pristine elegance or contemporary drama, it can be realized with European-style kitchen cabinetry by GoldenHome.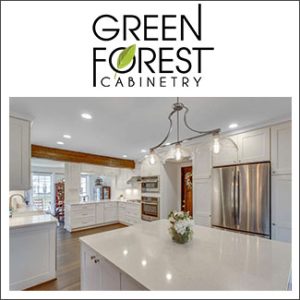 GREEN FOREST
Green Forest believes the key to a quality cabinet is "Keeping it Simple." Simply quality, simply on trend, and simply affordable have led to the best cabinet value in the market.
YORKTOWNE CABINETRY
Reinvigorate the timeless style of your home with the modern innovation in storage and functionality you need. Yorktowne's cabinetry blends style with smart design.
FOLLOW MILLHURST DESIGN CENTER ON SOCIAL: