PELLA WINDOWS AND DOORS INTRODUCTORY SALE

ENHANCE YOUR HOME'S LOOK AND SAVE MONEY WITH ENERGY-EFFICIENT PELLA® WINDOWS
Discover the beauty and energy efficiency of Pella Windows & Doors, a leading brand in the industry. Explore our wide range of window styles and options that will enhance the look and comfort of your home and help you save on energy bills. With durable materials and advanced technology, Pella Windows & Doors are designed to last, making them a wise investment for any homeowner. Start exploring our selection of wood, fiberglass, and vinyl Pella Windows today and experience the perfect combination of style and energy efficiency.
ENERGY EFFICIENT, ENERGY STAR

®

CERTIFIED 
Pella products offer energy-efficient options that will meet or exceed ENERGY STAR® certification in all 50 states, which offer the added benefit of lower heating and cooling cost.
For weatherproofing your home, Pella creates advanced energy-efficient windows and doors. Pella windows and doors are tested for air infiltration in state-of-the-art facilities to ensure they seal properly and meet or exceed industry performance standards. By purchasing Pella Windows & Doors, you will have windows and doors that help to make climate control easier and your environment more comfortable when dealing with fluctuations in temperature.
Pella utilizes the latest in materials like insulating glass with argon. This extra insulation helps keep the surface of the glass from getting too hot or cold, keeping your environment more comfortable. Pella also uses multiple layers of glass coating, which help with the temperature and protect your furniture and window treatments from fading. 
CUSTOMIZED WITH YOU IN MIND
Pella Windows & Doors are made specifically for your home because one size doesn't fit all. With access to more materials, colors, and options than other brands, Pella allows you to let your inner interior designer roam free. Not only are there a multitude of styles and materials to choose from, but Pella also offers exclusive snap-in options for shades, blinds, and grilles, along with smart home products and a proprietary finishing process that helps provide a quality finish.
Visit Millhurst Mills today and check out our Pella Windows & Doors display room. Our experts are happy to answer any questions about Pella products and help you find the perfect fit for your home.
---
WOOD REPLACEMENT WINDOWS
Wood is a timeless window material that offers energy efficiency, design flexibility, and natural beauty. As the original window material, wood windows can help maintain historic architectural integrity. While wood windows are common in historic homes, newer homes can still benefit from the many advantages that wood windows offer. Wood is the most customizable window material, making it a great option for many window types of various shapes, styles, and sizes. With Pella, you can choose from pine, douglas fir, mahogany, white and red oak, cherry, and maple.
Aluminum cladding is standard on the exterior of all wood windows at Pella and is available in a selection of colors to best match your home design. This extra layer of protection helps your windows last even longer against the elements. If you prefer the look of natural wood, opt for a stained wood interior.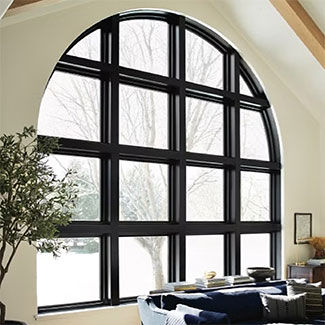 ---
PELLA® RESERVE™ – TRADITIONAL COLLECTION
Elevate your design vision with Pella Reserve – Traditional. Combining timeless authenticity with contemporary functionality, these products meticulously capture historical design elements. From authentic hardware to innovative disappearing screens and convenient sash lugs, each detail is thoughtfully crafted for those who seek unparalleled excellence. Pella Reserve – Traditional not only honors tradition but also enhances it with modern convenience, allowing you to infuse your space with classic elegance while enjoying the innovations of today.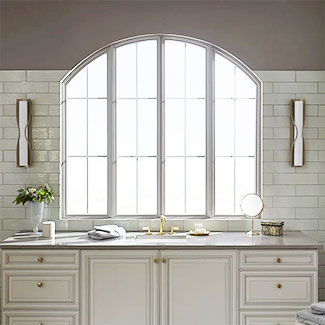 HISTORIC PUTTY PROFILE: Further your aesthetic with the putty profile, recreated with historically accurate angles — providing meaningful depth and a realistic shadow. Pella Reserve products offer the industry's deepest sash dimensions for a richer and more dramatic aesthetic for your project.
THROUGH-STILE CONSTRUCTION: Essential to the tradition of window making, butt joinery, and through-still construction, create authentic proportions and emulate historic window design.
INTEGRAL LIGHT TECHNOLOGY®: Pella's Integral Light Technology helps capture the look of true-divided-light without sacrificing energy efficiency.
AUTHENTIC HARDWARE: Complement your project with historically authentic spoon-lock window hardware. Pella's Antiek casement window hardware is inspired by period furniture to deliver authentic, traditional style. Add charm to patio doors with premium hardware created in collaboration with Baldwin®.
AVAILABLE IN THESE WINDOW AND PATIO DOOR STYLES:


---
PELLA® LIFESTYLE SERIES
Discover the exceptional quality of Pella's Aluminum-Clad Wood Windows & Doors – the Lifestyle Series. These products are the leading wood window and patio door choices, excelling in energy efficiency, soundproofing, and value. With 12 stunning EnduraClad® exterior colors to choose from, the Lifestyle Series not only enhances aesthetics but also delivers unmatched performance. Backed by 37 proven innovations and advanced glass packages, it proudly holds the esteemed ENERGY STAR® Most Efficient distinction. Tailor your solution effortlessly with multiple performance packages: Energy Efficiency for savings, Sound Control for tranquility, or the Ultimate Performance package for both unparalleled efficiency and exceptional sound insulation. Elevate your living space with Pella Lifestyle Series products, wetting the standard for innovative, stylish, and functional windows and patio doors.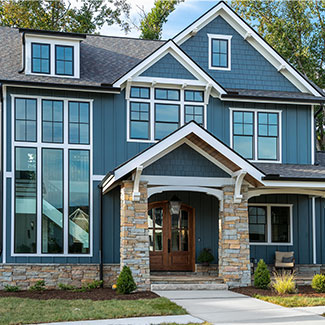 STYLE FLEXIBILITY: No matter the style of your home, these beautiful wood windows and patio doors offer the most desired features and options. With your choice of beautiful interior and exterior paints or stains, you have the style flexibility to match other finishes throughout your home.
REDEFINING PERFORMANCE: Make your home more comfortable and help keep outside noises out and inside noises in. To make things easier, Pella has created performance packages to highlight what's most important to you. Upgrade from a dual- to a triple-pane glass design with the available packages to meet the unique needs of each room in your home.
ROOM-BY-ROOM SOLUTIONS: Packed with 37 time-tested innovations, you can create solutions for your home room-by-room. Choose optional integrated security sensors that come factory-installed to preserve the beauty and warranty of your windows and patio doors. Personalize with motorized integrated blinds and shades for added privacy and convenience.
AVAILABLE IN THESE WINDOW AND PATIO DOOR STYLES:

---
PELLA® IMPERVIA® FIBERGLASS WINDOWS & DOORS
Fiberglass is a naturally strong material used in a range of commercial and industrial items, making it an excellent option for windows. In fact, Pella's proprietary fiberglass material is the strongest material for windows. In addition to its strength, fiberglass is long-lasting, low-maintenance, and resistant to chipping, chalking, and fading. This window material doesn't expand or contract when the weather changes and acts as an insulator, giving you a long-term, energy-efficient window frame.
Fiberglass windows from Pella offer strength and durability with the ability to withstand extreme temperatures. Fiberglass is a low-maintenance material with a quality look. Choose your window style and enjoy fiberglass's quality look and energy efficiency.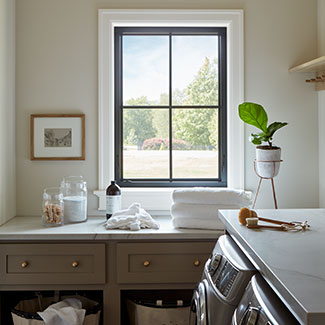 UNMATCHED STRENGTH & LASTING DURABILITY: Pella Impervia windows and patio doors are ready to handle virtually anything life throws at them. Made from their proprietary fiberglass, the strongest material available for windows and patio doors, these products are engineered for lasting durability. With a durable powder-coat finish, your Pella Impervia windows and patio doors never need to be painted and refinished.
SLEEK, TIMELESS STYLE: Create a timeless design that will stand the test of time. Versatile design elements combined with sleek profiles and clean lines deliver a timeless style. Pella Impervia windows and patio doors feature an up-to-date color palette, including Black, and grilles-between-the-glass to achieve the look and feel you deserve.
PROVEN PERFORMANCE: Pella Impervia products are engineered for the rigorous performance requirements of a commercial building, so you can trust them to perform in your home. Suitable for all climates, Pella fiberglass windows and patio doors help you create a comfortable home year-round. Pella Impervia offers energy-efficient options that meet or exceed ENERGY STAR® guidelines in all 50 states. Optional foam insulation and triple-pane glass further improves energy and sound performance. And with the highest-performing low-profile sill, Pella sliding patio doors have a clean, minimalistic look without compromising performance.
AVAILABLE IN THESE WINDOW AND PATIO DOOR STYLES:

---
PELLA® 250 SERIES VINYL WINDOWS & DOORS
Discover heightened security and privacy with the Pella 250 Series for more peace of mind. Crafted from high-quality, easy-care vinyl, these windows and patio doors excel in energy efficiency and Pella's renowned craftsmanship.
Pella's unique vinyl formula is performance-tested for excellent weathering, durability, and color retention. Say goodbye to repainting – its solid-color vinyl also easily conceals minor scratches. Enjoy peace of mind and low maintenance with the Pella 250 Series.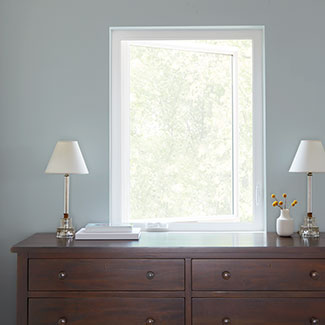 ENHANCED SECURITY AND PRIVACY: Gain peace of mind with the enhanced security and privacy features available on Pella 250 Series windows and patio doors. An optional AutoLock, available on double-hung, single-hung, and sliding windows, automatically locks the window when it is shut — simply close the sash and confirm it latches. The Pella 250 Series sliding patio door with footbolt is their most secure vinyl patio door. The patent-pending footbolt is flush with the frame and provides secondary venting and locking abilities without compromising beauty.
HIGH-QUALITY VINYL: Pella 250 Series windows and patio doors are made to last with Pella's fade-resistant vinyl formula. Performance tested for excellent weathering, durability, and color retention means no more painting or staining. Solid and dual-color frame options are available to complement your home's style.
EXCEPTIONAL PERFORMANCE: Multiple insulating frame chambers and an exclusive weather-repel system deliver energy efficiency while channeling water away from your home. Upgrade to optional triple-pane glass to maximize your home's energy efficiency and reduce outside noises. Add optional foam insulation to improve energy efficiency further.
AVAILABLE IN THESE WINDOW AND PATIO DOOR STYLES:

---
EXPLORE YOUR OPTIONS WITH A WINDOW EXPERT AT MILLHURST MILLS
Expert craftsmanship takes expert product knowledge. A Pella windows and doors expert at Millhurst Mills can help you pick out the window that fits your home — and your style. Call to schedule a free consultation and estimate. Or visit us for a guided tour of your options. No pressure. No cost to you.