KEEP YOUR HOME STYLISH AND SECURE WITH STORM DOORS BY LARSON AT MILLHURST MILLS!
Home has never been more important. Your front door… it's the heart of your home, the place that holds the people you cherish, the memories you make, and the things you love most. It's where you provide a warm and inviting welcome to friends and family and greet new people. Larson handcrafts products that make you feel safe, comfortable, and protected in your home. Their industry-leading storm doors, screen doors, security doors, retractable screens, storm windows, and porch window products are designed to protect what matters most. Larson dreams, designs, and manufactures its products in the heart of the U.S., backed by innovation, quality, and service.
FIND THE RIGHT LARSON DOOR FOR YOU.
Whether adding an exterior storm door or replacing one, Larson builds the best. From traditional to modern, Larson storm door styles create an inviting entrance, add value, and reflect your unique lifestyle. Larson storm doors are available with two installation methods that require no cutting. EasyHang® includes one-step hanging with pre-drilled placement holes and adjustable height for an exact fit. The Platinum Collection is pre-assembled for effortless installation. Out of box and on your home in minutes! Protect your entry door and provide an additional layer of security between your home and unwelcome guests with Larson storm doors.
---
OPEN YOUR HOME TO FRESH AIR WITH LARSON SCREEN AWAY® STORM DOORS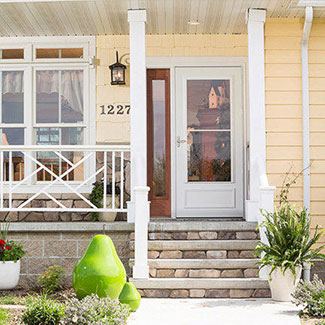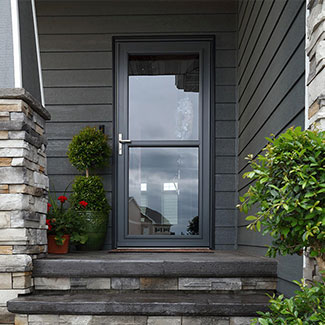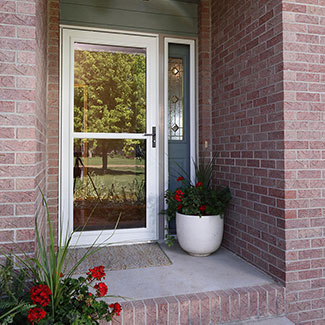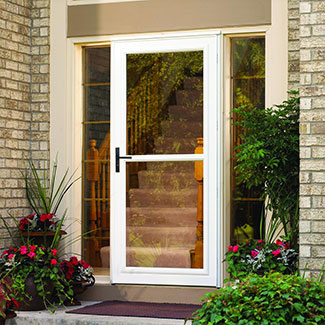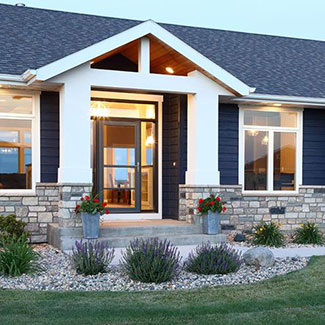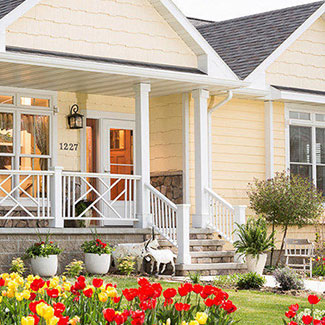 Screen Away® storm doors from Larson have become the number one choice for homeowners. The built-in screen makes it easy to welcome in the breeze and stays hidden in the top cassette when not in use. These innovative exterior storm doors offer excellent protection and are built to last. The maintenance-free aluminum frame features an overlapping edge with a dual weatherstrip that provides a tight seal and keeps the weather out. The hidden screen offers instant ventilation while keeping pests out.
Larson focuses on quality and style, from decorative fullviews to high-performance Low-E glass doors. Customize your Larson Screen Away® storm door with a QuickFit™ handle available in styles and finishes to complement your home (sold separately). Screen Away® models are designed with kids and pets in mind and built to withstand the demands of everyday life.
---
LET THE LIGHT IN AND ENJOY THE VIEW WITH LARSON FULL GLASS STORM DOORS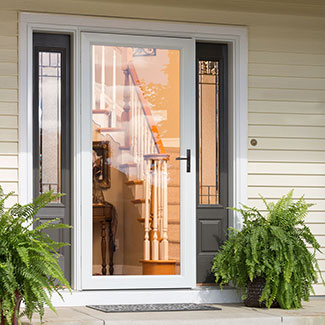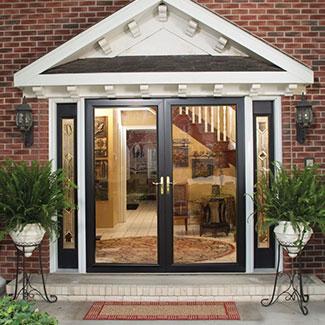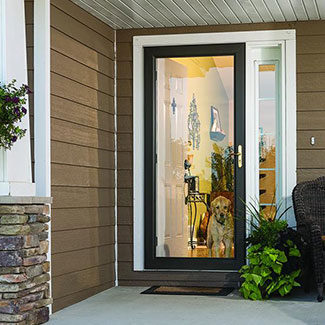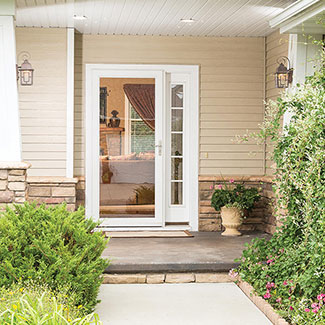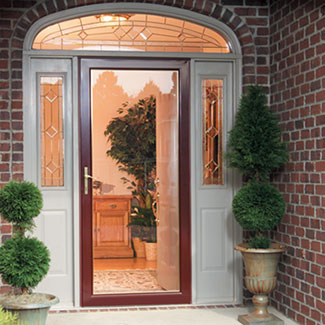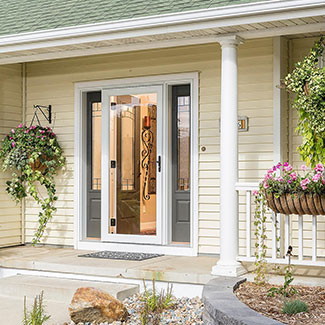 Full glass storm doors from Larson are a quick and economical way to enhance your curb appeal. Many fullview doors come with a full screen that interchanges with the glass for seasonal ventilation. Both options allow you to showcase the beauty of your primary door while protecting it from the elements, provide ventilation, and let in the light at the same time!
Larson Fullview storm doors frame your entry and allow maximum daylight to cascade into your home. The thick frame and heavy-duty weatherstrip block out harsh weather and provide a tight seal to keep out drafts. Whether it is an easy installation experience or an easy way to give your kids and pets unobstructed views of the outdoors, Fullview models are designed to live up to the demands of everyday life, while adding beauty and security.
---
LARSON SECURITY DOORS ARE BUILT TO PROTECT WHAT MATTERS MOST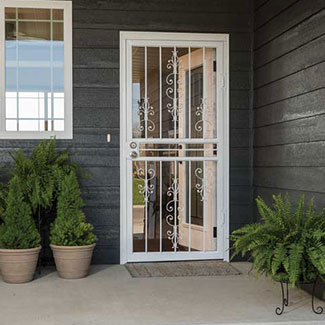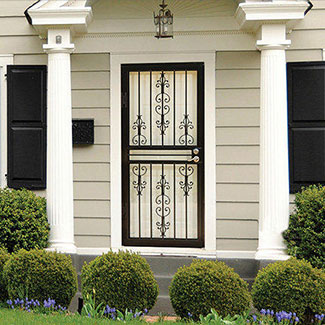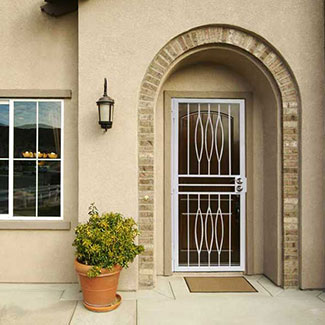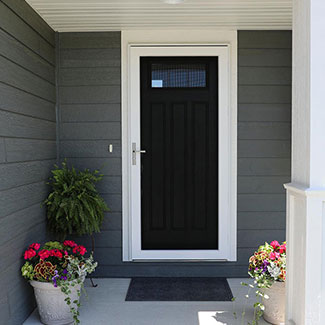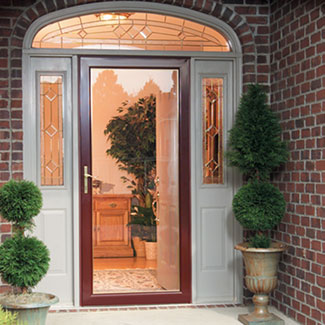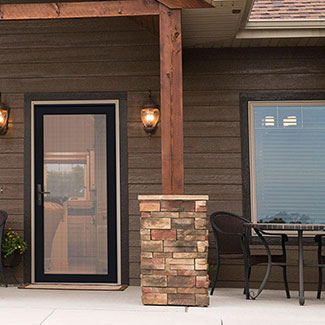 Larson's ultimate storm door technology with all the features you've come to love!
Like a precious metal, Platinum Dominator™ Secure Glass and Screen is a one-of-a-kind blend of strength and luxury for lasting endurance. The Dominator™ Secure Glass and Screen is the ultimate security door with added security features, better operation from open to close, and an effortless installation system that takes only minutes. Dominator™ Secure Glass and Screen has all the features you would expect from Larson, plus a sleek profile, enhanced durability and easy installation.
---
LET YOUR PET IN AND KEEP UNWANTED CRITTERS OUT WITH THE LARSON BUILT-IN PET DOOR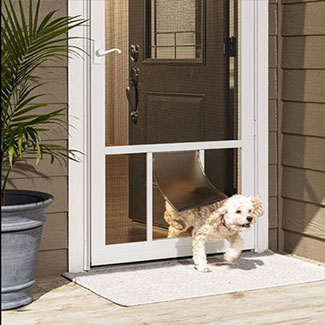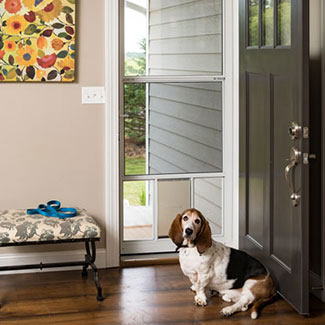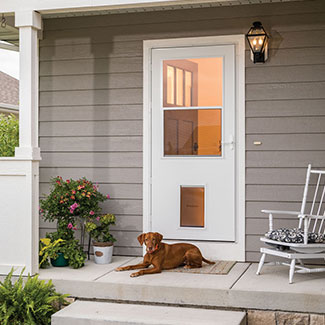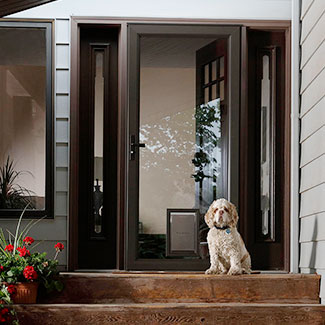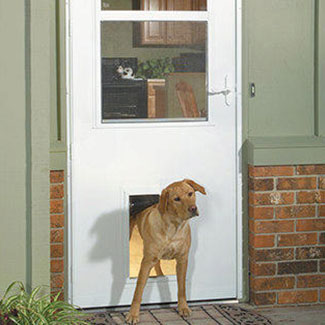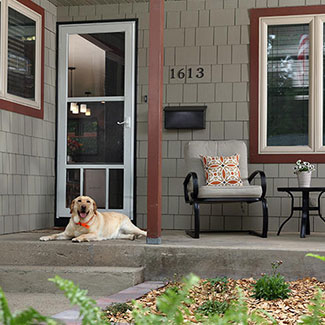 Because you share your heart and your home with your dog, invite him to expand his independence and enjoy the ease of entering and exiting your home with a Larson storm door with PetSafe® pet flap.
Before you cut into your walls or damage your expensive prime doors, consider a pet storm door from Larson. Several storm door options keep your furry, four-legged family member content in your home. Not only do these doors add beauty and curb appeal to your front door, but they make your life and your pet's a bit easier.
---
PROTECT YOUR HOME WITH LARSON MAINTENANCE-FREE VENTING DOORS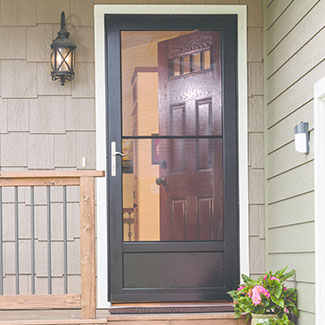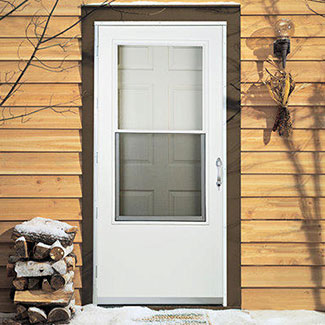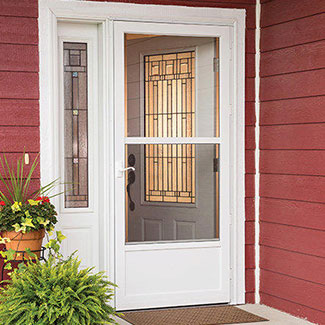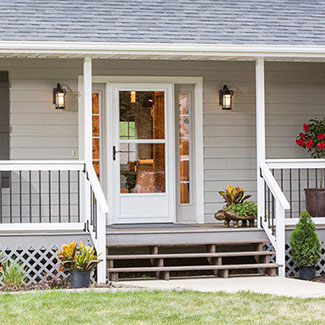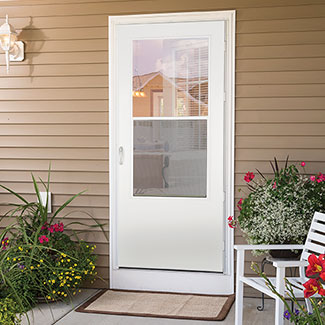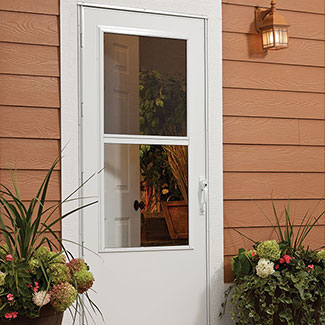 Weather is rough on doors. Protect your home from howling wind, pouring rain, and scorching sun. Feel the breeze with traditional combination glass and screen storm doors from Larson.
Larson's maintenance-free venting doors are strong and sturdy, allowing maximum air movement while sealing out harsh weather. This traditional collection features models with magnetic weatherstrips that seals like a refrigerator. Other models in this collection include their strongest and sturdiest WearTuff® screen to outlast enthusiastic kids and pets while keeping bugs out.
If you're looking for beauty that lasts, Larson venting doors are an excellent addition to your front, back, and side doors.
---
Protect your home from the elements with storm doors by Larson. Meet with one of our experts at Millhurst Mills Remodeling Center and find the one that frames your lifestyle best. We'll find the right door for your project!