AT FABUWOOD, THEY CREATE KITCHENS THAT MAKE YOU FEEL AT HOME
Cabinets play a pivotal role in orchestrating the flow of your kitchen design. Offering a seamless balance of functionality, endurance, and poise, Fabuwood cabinets are built to withstand the test of time. Each door style embodies a distinct character and vibe that's unique to your personality and what you stand for. Featuring cabinets in a great combination of style, selection, and price, Fabuwood invites a welcoming sense of comfort and luxury to the space that's central to your life. Go ahead and explore their wide variety of cabinet styles, materials, and finishes, and discover the one that perfectly captures the heart of your home. Then schedule your DESIGN APPOINTMENT with one of our talented designers to get started!
Fabuwood offers a wide variety of cabinet styles and shades. They produce three categories of cabinetry collections; the Allure Series, Quest Series, and Value Series. Whether you need to set up a new kitchen or remodel your bathroom or kitchen, you will get the best in durability, style, and price from Fabuwood.
Q12: QUALITY REDEFINED
Design is so much more than appearance alone. How are quality Fabuwood cabinets truly defined? After performing a thorough analysis alongside industry professionals, the definition of quality cabinets has been narrowed down to twelve unique attributes. Collectively, these twelve simple but significant pillars have been given an even simpler name – Quality 12. A Q12 Fabuwood cabinet encompasses 12 facets that together make up a superior product. Learn more about the twelve fundamental pillars that establish the Fabuwood Q12 qualifications:
---
ALLURE COLLECTION
The Allure Collection is sleek and stylish and comes in unique styles Luna, Onyx, Galaxy, Nexus, Fusion, and Imperio.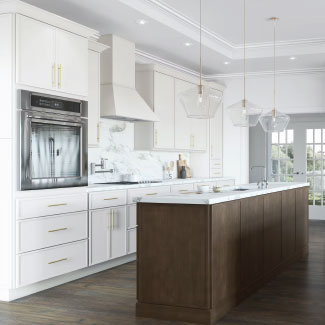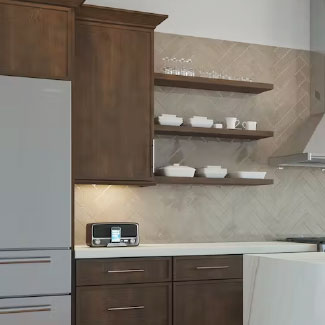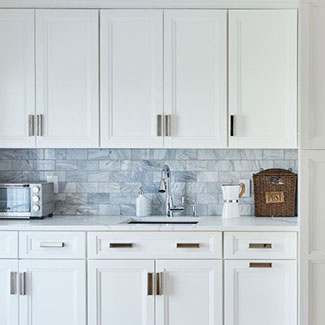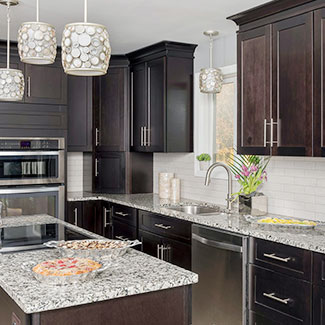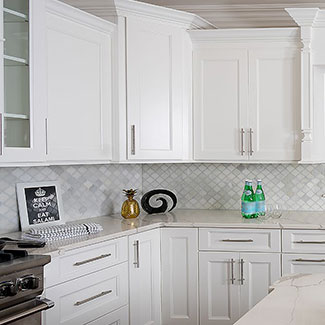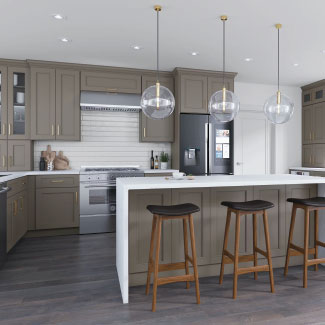 FABUWOOD EXPRESS CUSTOM COLOR PROGRAM
Fabuwood is expanding its Allure series door styles with a huge color assortment expansion, the Fabuwood Express Custom Color Program. With the launch of their new 6 colors in the Fabuwood Express Custom Color Program, they now offer a faster lead time for paint color customizations available in any Allure door style. New colors: Denim Blue, Ocean Blue, Sage Green, Hunter Green, Pitch Black, and Cloud White! With any of the new 6 Express Custom Colors or 8 Stock Colors, Fabuwood remains ahead of the industry with 15 business day lead time.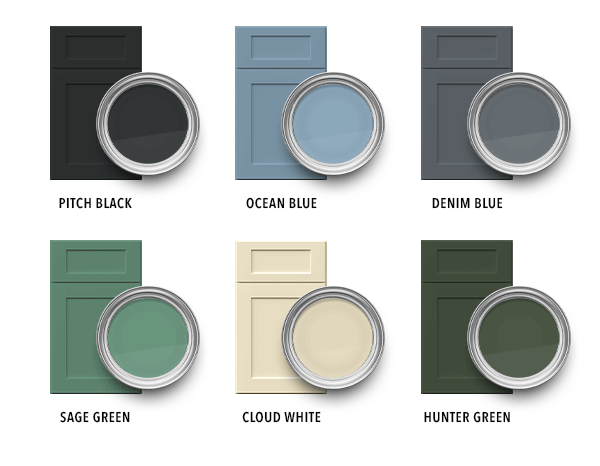 LUNA
With smooth finishes, the Luna line by Fabuwood makes quite the impression creating a polished look with a modern flair. The line offers an impressive minimalistic masterpiece with enduring appeal. Available in painted Dove and stained Kona finish. Bring elegance with a modernized design.
ONYX
Enhance your kitchen with Fabuwood's adaptable Onyx line. These clean-cut, shaker-style cabinets can complete both modern and traditional kitchens. Available in painted Frost or stained Cobblestone and Horizon finishes. The Onyx is sure to look equally stylish in modern or classic spaces.
GALAXY
Fabuwood's contemporary Galaxy line provides a timeless charm to your kitchen with smooth polished finishes and simple frame designs. Available in seven finishes: Espresso, Cobblestone, Horizon and painted Linen, Frost, Nickel, and Indigo. Galaxy offers an impressive minimalistic masterpiece with enduring appeal.
NEXUS
The Nexus collection, characterized by its wide frames and minimalistic detailing, nicely balances conventional and transitional cabinetry. Available in painted Frost, bringing bright, clean, and modern cabinets as the picture-perfect foundation for your dream white kitchen.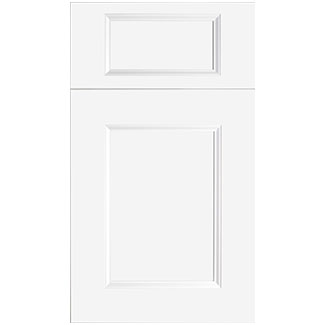 FUSION
The transitional Fusion line provides a contemporary twist on traditional cabinetry with its wide rail mouldings, distinctive detail, and classic characteristics. Available in six finishes: Kona, Stone, Oyster, Dove, Nickel, and Blanc. This detailed style gives your kitchen a touch of traditional splendor with a refreshing twist.
IMPERIO
The Imperio line brings a touch of class to a transitional kitchen with contemporary flat panels and classic applied mouldings. Imperio by Fabuwood is available in two finishes, Dove and Nickel, combining an up-to-date feel with classic detail.
---
VALUE PREMIUM COLLECTION
The Value Premium Collection from Fabuwood blends top quality with refined style to represent true craftsmanship and tradition at an affordable price. The Value Premium Collection is a great choice for builders, landlords, and homeowners on a budget. With a distinctive artisan charm, these cabinets are sure to be a focal point in any home with a classic setting.
HALLMARK
Brighten up any room at an affordable price with the Hallmark line in painted Frost from the Value Premium Collection. Featuring raised panels and decorative details in the frame, the Hallmark cabinet is a lovely classic.
---
QUEST COLLECTION
The popular Quest collection is an economical choice that is transitional in style, complementing a wide range of kitchen designs. Fabuwood offers this line in two styles Metro and Discovery.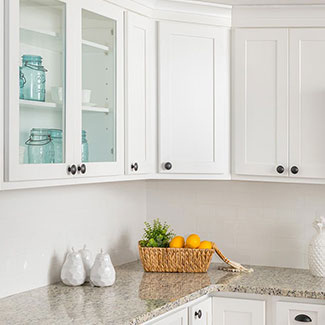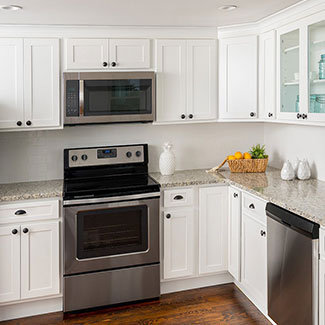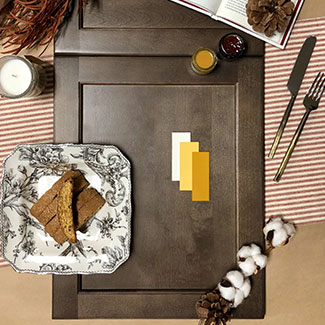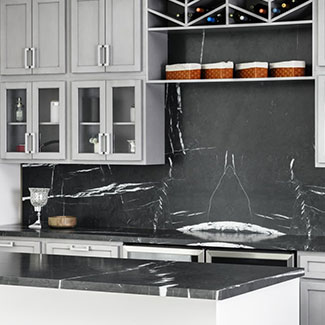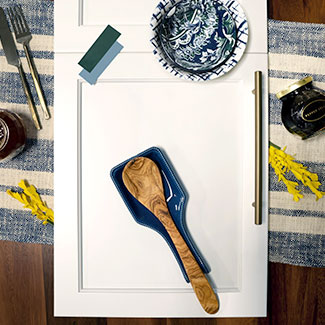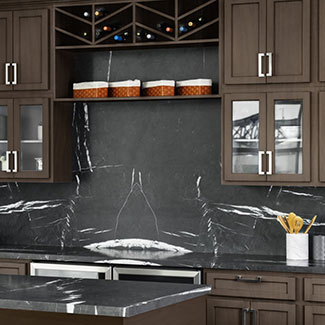 METRO
An economical cabinet with traditional overlay doors and a 5-piece recessed panel drawer front. The Metro cabinet is an ideal choice for multi-unit projects with its stylish and smart design. Available in three finishes: Java, Frost, and Mist.
DISCOVERY
The Discovery line consists of a clean, simple design complete with overlay drawers, a style as affordable as it is timeless. Offered in painted Frost, a picture-perfect foundation for your dream white kitchen.
---
If you've decided that Fabuwood is the right cabinet for you and would like to receive a free design consultation, please click below or call us at 732-462-2000 and start working with our design team to create the kitchen of your dreams.
SCHEDULE YOUR FREE DESIGN CONSULTATION >