CABINETS BY BERTCH ARE BUILT TO LAST
A lot of thought and careful planning went into your home. Create a space that defines your style with beautiful Bertch Cabinet products. Three series are available within the Bertch product line, depending on your design and budget.
– Marketplace
– Kitchen+
– Elan
– Bertch Bath
Millhurst Mills aims to provide our clients with the finest products and services in the industry. In that spirit, we are proud to carry Bertch cabinetry products in our Manalapan, NJ showroom. Learn more about Bertch and contact us to discuss options for your next remodeling project.
COMMITMENT TO QUALITY
Bertch has been reviving the cherished art of traditional cabinet making for over 40 years. Family-owned and operated, headquartered in the Midwest, all products reflect a commitment to reforestation, recycling, and a general respect for the environment. Their cabinets, vanities, and doors utilize only the finest wood, furniture joints, and exceptional finishes to create distinct products for your home. Bertch offers semi-custom, stock, and custom cabinet and door styles in numerous finishes and paint colors to compliment any look desired in your home. Come shop Bertch Cabinetry at Millhurst Mills today.
ENVIRONMENTAL RESPONSIBILITY
Their KCMA Certified Environmental Stewardship Program is an important part of their corporate philosophy, which strives to protect our environment and encourage sustainability practices in the building industry. KCMA states, "The Environmental Stewardship Program is a step above other industry environmental programs because our guidelines reach beyond raw material and management to set standards for manufacturing and product processes in regards to air quality and formaldehyde use." Bertch's goal is not just to meet the ESP requirements but to exceed them. That means these products release no Volatile Organic Compounds (VOC) into your home.
DESIGN CUSTOMIZATION
Bertch cabinetry has become a leader in the cabinet industry due to the quality Bertch puts into their product. You can choose premium hardware such as slow-close doors and drawers, hidden drawers, cutlery trays, and more. The fine details provide conveniences you would not have thought of. You can choose from various species of wood, cabinet styles, and a wide variety of stains and paints. Door styles include a vast selection of glass options to provide style and dimension to your home. The options are extensive, the quality is outstanding, and it is all backed by a lifetime warranty!
SCHEDULE YOUR COMPLIMENTARY DESIGN APPOINTMENT >
---
MARKETPLACE
Bertch Marketplace cabinetry combines durability and detail to produce an epicurean's dream. Choose from a wide variety of door styles, including wood and stain combinations, as well as numerous interior accessories to add to the functionality of your investment. Bertch Marketplace allows you to create your dream home while remaining within your budget.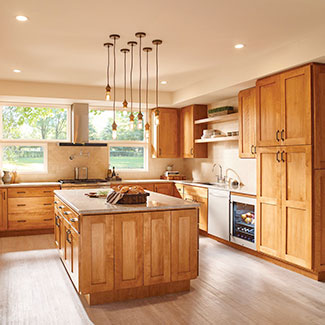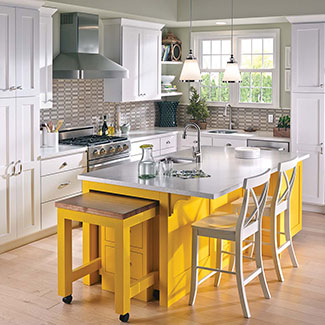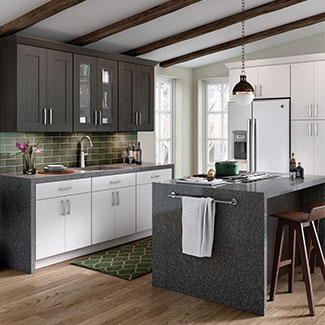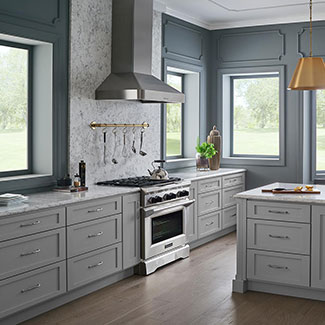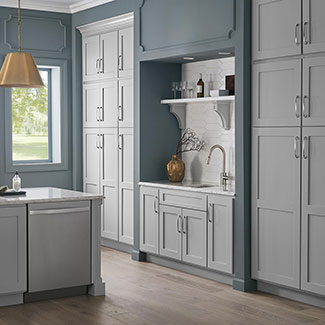 ---
KITCHEN+
Bertch's Kitchen+ line is a semi-custom line with custom features available. They can be customized to fit your room, your needs and to fit around obstacles in your home. As the name implies, custom cabinets are truly custom and can be modified in ways only limited by your creativity.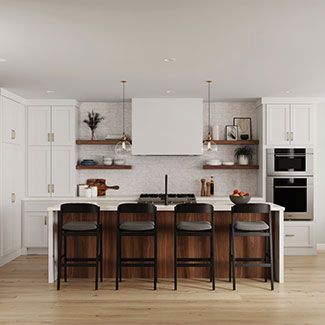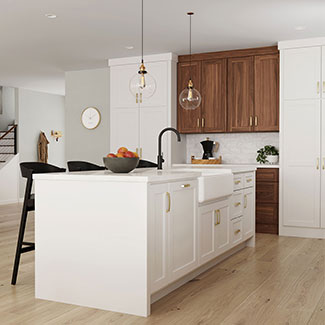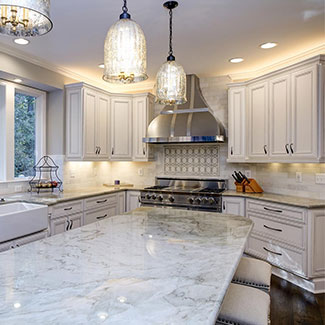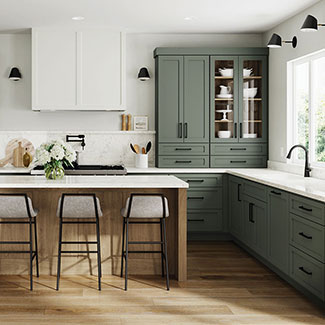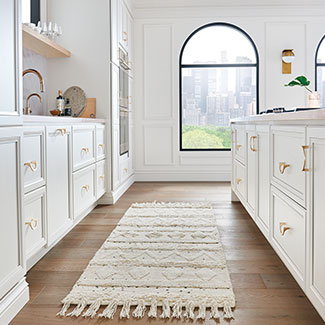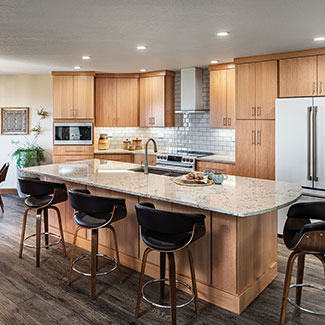 ---
ELAN
Bertch's Elan line offers frameless cabinets with all the same options that Kitchen+ offers. It is an excellent alternative to traditional framed cabinets and is perfect for a modern, sleek home design creating a clean-lined kitchen with more interior cabinet space.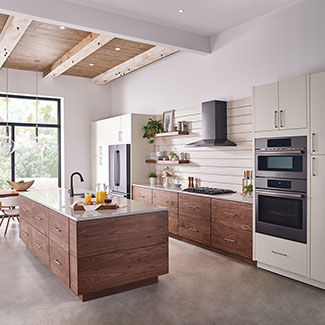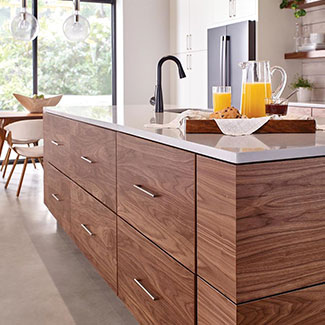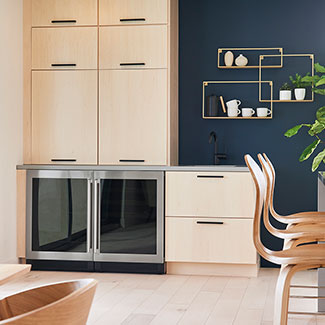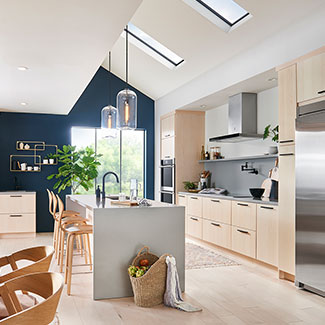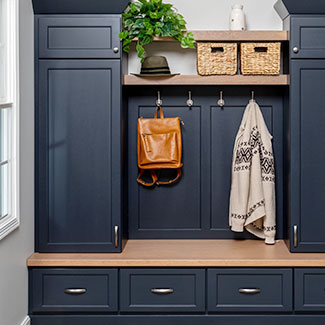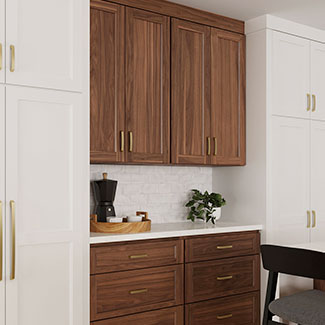 ---
BERTCH BATH
Bertch also has one of the most extensive bath cabinetry programs in the US. They have styles ranging from traditional to modern, a wide range of finishes, and various colors available. Vanities come with matching mirrors and a line of high-quality countertops. Their vanity tops are available in many colors and can accommodate an under mount sink, top mount sink or can come with the sink included. Vanities are made from all wood components and high-quality finishes, making Bertch a great all-in-one solution for the bathroom.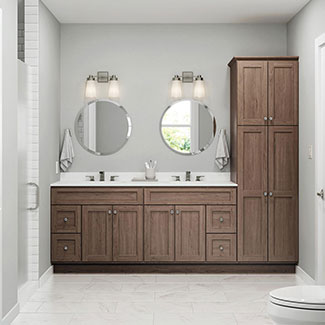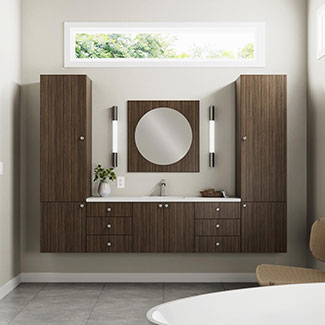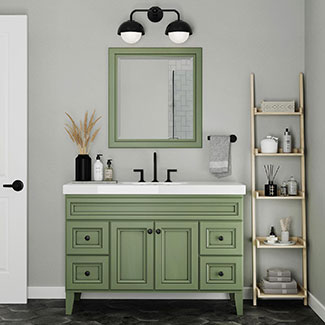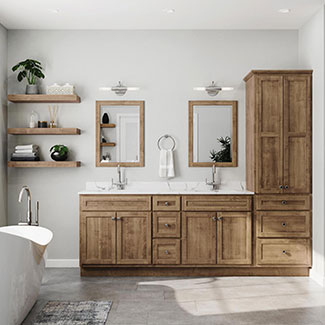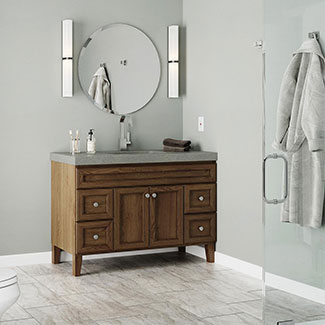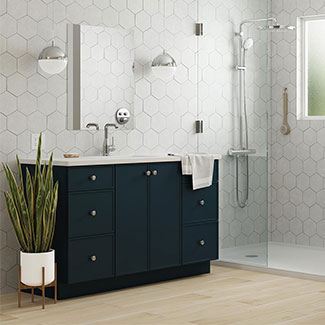 ---
BERTCH CABINETS, A SMART CHOICE
There are over a hundred door style options between the three lines and limitless color options. Almost any insert or organization option imaginable will be available through Bertch. All of Bertch's lines are made in the USA and sourced from North American plywood. They all offer soft-close doors and drawers.
Our full-service showroom and knowledgeable design team can offer guidance and direction, helping you sort through the myriad of choices and design elements to bring a signature look to your remodeling project. So, if you've decided that Bertch is the right cabinet for you and would like to receive a free design consultation, please click below or call us at 732-462-2000 and start working with our design team to create a space of your dreams.
SCHEDULE YOUR COMPLIMENTARY DESIGN APPOINTMENT >