BATHROOM REMODELS FROM CONCEPT TO DESIGN TO COMPLETION
Is your bathroom everything it could be? Is it a refuge at the end of a long day, where you soak in the tub while losing yourself in your favorite book? Is it the inspiration you need in the morning to rejuvenate in a hot shower before beginning your busy day? If your space doesn't provide these simple pleasures, it's time for a bathroom remodel. 
Millhurst Design Center will bring your vision to life!  From a small bathroom remodel or beyond, our expert team manages the entire bathroom renovation from start to finish, keeping you informed every step of the way. Whether it is replacing your vanities or just a straightforward bathroom remodel that will give you a fresh new look and feel, we are here to exceed your expectations. 
ELEGANT AND FUNCTIONAL DESIGNS
Ready to live more luxuriously in a highly functional oasis of wellness, relaxation, and elegance? Our design team will offer an extensive array of bathroom tiles, vanities, and cabinetry that is sure to meet your unique needs. The options are endless, and the possibilities are limitless.  From sleek accessories that add a pop of color to a range of tile options in high-end finishes like glass, stone or marble, Millhurst Design Center has it all.
We are with you from concept and design through completion, helping you create the escape you deserve where you can truly unwind.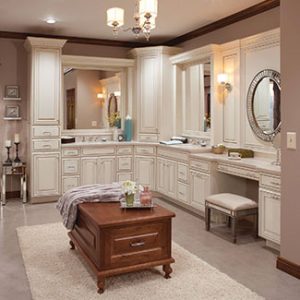 CABINETS 
Our selection of bath cabinets is extensive and of the utmost finest quality. Stop in our Design Showroom today and see for yourself. Our friendly and knowledgeable staff will be happy to assist you.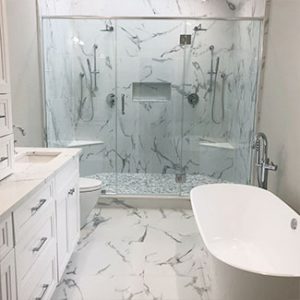 TILES

You will find that we have the best fit for any bathroom renovation with our vast selection of tile and mosaics. From the latest trends to the reliable classics and everything in between, the design possibilities are endless.
Schedule your complimentary consultation with one of our talented designers to get started on your bathroom remodel and let us make your renovation an effortless and satisfying experience. Featuring full-scale displays of the products you need to create the bathroom of dreams. Browse collections of bathroom tiles, cabinetry, vanities, and more from the leading manufacturers in the industry and find inspiration for your bathroom remodel.
FOLLOW MILLHURST DESIGN CENTER ON SOCIAL: